Photonics for Food Industry Webinar: November 26, 2020, 1pm – 3pm,
Enabling agri-food industry transformation
Photonics Finland and Food Tech Platform Finland are organizing a webinar for finding new opportunities for developing the agri-food industry through the use of photonics. The event is free of charge.

Digitalization of the agri-food industry is underway and driven by new tech, of which photonics is a key enabling technology. Photonics provide opportunities throughout the whole food value chain, such as more efficient greenhouse growing, quality monitoring, sanitizing, traceability and many more. The potential of photonics in food industry is constantly growing as new applications and challenges are found to be solved.
The webinar brings together food and photonics companies and experts to discuss new photonics solutions and new opportunities suitable for the use of photonics in the food industry. Join us, hear, and discuss the added value that this growing branch of technology can bring to the food industry.
1:00-1:15 Foot Tech Platform Introduction, Laura Forsman, Program Leader for Food Tech Platform Finland, University of Turku
1:15-1:30 Photonics Finland Introduction, PhD Ana Gebejes, Head of Projects at Photonics Finland
1:30-1:45 Photonics in digitalized agrifood ecosystem, PhD Heikki Aro, R&D Manager (PhD, Food Chemistry), HKScan Corporation
Energy efficient LED grow lights controlled by plants and AI, PhD Mikko Tikkanen, Assistant professor, University of Turku, Business Finland L-LED project
1:45-2:00 Application of photonics in crop growth and quality control in the food production chain, Professor Markku Keinänen, Research manager, University of Eastern Finland, Department of Environmental and Biological Sciences
2:00-2:15 Why should you now consider spectral imaging for agri-food applications?, PhD Pavel Paclik, Director, perClass BV
2:15-2:35 Case Flavoria® research restaurant and bio waste monitoring, Pauliina Ojansivu, Research Coordinator at Flavoria® research platform, and Minna Lapinlahti-Aaltonen, Product Specialist ESCflow| Quality Support, Process & Energy, Elomatic Oy
2:35-2:55 20min Q&A
2:55-3:00 Closing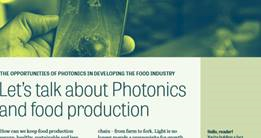 Register here.
For any questions contact PhD Ana Gebejes (ana.gebejes@photonics.fi; +358414760113)
Read the post about photonics and machine vision in food industry (in Finnish), by Tuukka Pakarinen, Photonics Finland.
You can also find a fact sheet about the Photonics in food production in our Materials page.
Ovatko data ja ruokateknologia Suomen ruoka-alan tulevaisuuden menestystekijöitä?
Foodtech Platform Finland ja Gaia Consulting selvittivät Resilience Drive-työpajoissa yritysten näkemyksiä sopeutumisesta sekä nykyiseen että tuleviin kriiseihin
Etäyhteyksin järjestetyissä kahdessa Gaian fasilitoimassa työpajassa oli mukana joukko aktiivisia toimijoita, joiden kokemukset vuoden 2020 tapahtumista ovat arvokasta tulevaan varauduttaessa. Oheinen kaavio kuvaa osallistujien esille tuomien ilmiöiden arvioitua merkittävyyttä, joka toisessa työpajoista tuotettiin. Useista kiinnostavista havainnoista kiinnittyi huomio erityisesti datan, uusien ruokateknologioiden ja liiketoimintaekosysteemien merkitykseen.
Mikä toimintaympäristössä muuttuu?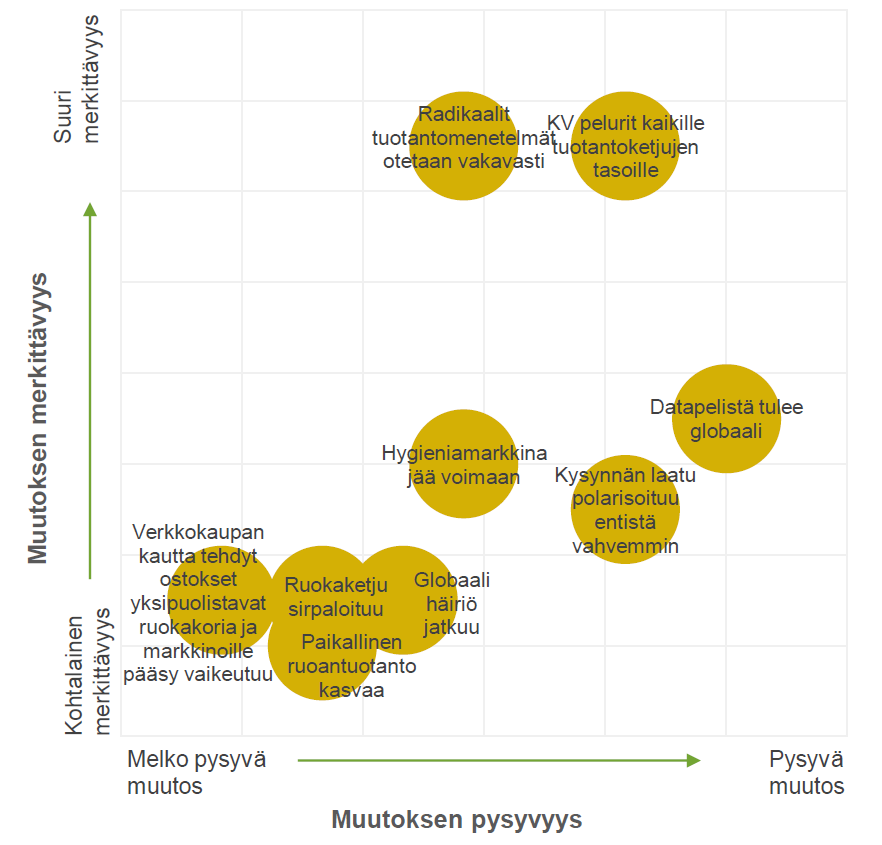 Ruokaan liittyvän datan hyödyntäminen arvioitiin pysyvimmäksi muutokseksi, joka on luonteeltaan myös merkittävä. Kun kansainväliset toimijat tulevat joka tapauksessa hyödyntämään ruokaan liittyvää dataa, kansallisilla toimijoilla on korkea aika hakea asiassa yhteisiä intressejä ja ratkaisuja.
Tässä Food Tech Platform Finlandilla on selkeä katalysaattorin rooli. Parhaillaan olemme valmistelemassa kahta ruokadataan liittyvää kiinnostavaa aloitetta. Toinen niistä liittyy koko ruokaketjun digitalisaatioon ja lisäarvon kasvattamiseen datan avulla, ja toinen datan valjastamiseen entistä helppokäyttöisimmäksi ratkaisuiksi henkilökohtaisen terveyden ja hyvinvoinnin ylläpitämisessä.
Myös liiketoimintaekosysteemit nähtiin resilienssipajoihin osallistuneiden mielestä mahdollisuutena kasvattaa kaikkien kakkua. Niissä on lähdettävä liikkeelle kokeillen, puhtaan intressivetoisesti tuoden yhteen erilaisia ydinosaamisia. Toiminnan sparraajiksi pitää löytyä riittävän laajasti ajatteleva asiantuntijatiimi. Radikaalit teknologiset ja mm. ruokahygieniaosaamiseen liittyvät ratkaisut halpoihin ruoantuotannon menetelmiin arvioitiin potentiaalisiksi kasvumahdollisuuksiksi jatkossa. Kokonaisuus voi koostua useamman toimijan panoksesta.
Resilienssipajojen tulokset vahvistavat aiempia signaaleja yritysten kokemista tarpeista ruoka-alan murrosvoimien ja kasvun mahdollistajien osalta. Mistä kulmasta sinua nämä tunnistetut aiheet kiinnostaisivat eniten ja kenen kanssa näet parhaat edellytykset tarttua mahdollisuuksiin?
Digitalization enables new innovative business models in food retail
The digitalization of food retail is one of the most disruptive business developments currently emerging, and signifies interesting opportunities for new players. For consumers, it means more convenience and larger assortments delivered home, as well as genuinely new added value to grocery shopping. Especially the latter is often offered by creative new startups. Indeed, new kinds of food platforms and grocery delivery services are emerging. For example, the local produce trend is driving digital, regional food co-ops, with unmanned pick-up centers backed up by technical solutions such as RFID tags and electrical keys. And recently, a Finnish startup Venner has launched a novel social impact business model where consumers can harness their grocery shopping for the purpose of donating a meal kit of healthy vegetarian food to disadvantaged families.
Food Tech Platform Finland hosted a panel discussion at the SHIFT Business Festival for raising the awareness on the possibilities and the threats of this development both for food businesses and the tech and software businesses.
Curious about this phenomenon? Read the Food Tech Platform Fact Sheet about the digitalizing food retail business and the SHIFT blog on the topic by Laura Forsman.
Interested in ways to collaborate with others working on the field? Get in touch with us!